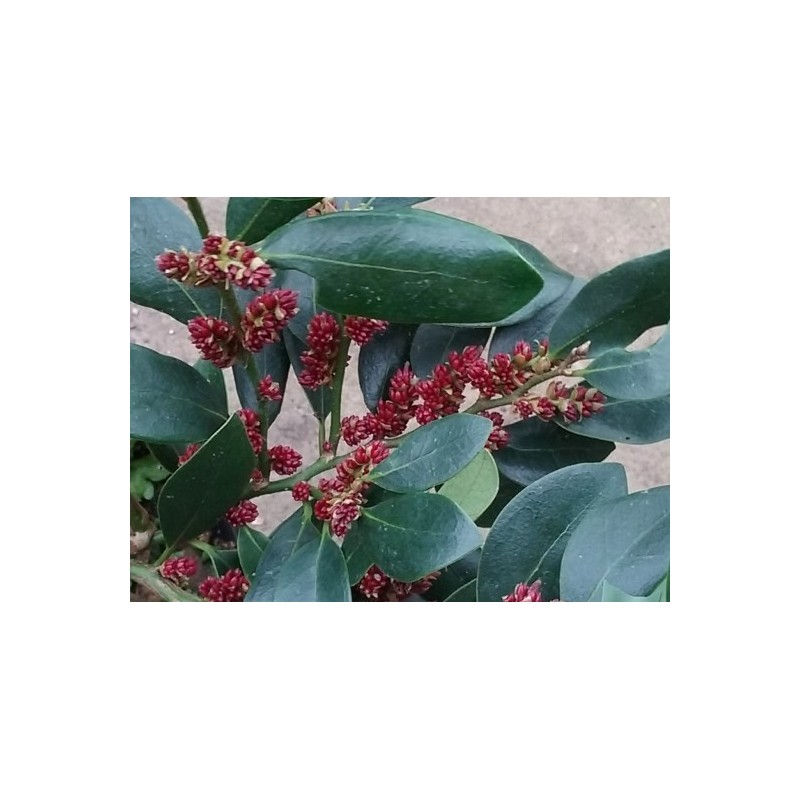  
Distylium racemosum
(Isu Tree or Winter-hazel) Rare in the UK, Distylium racemosum is an elegant large evergreen shrub with dark purple-red spring flowers.
£6.95 Delivery for ANY number of plants to most of the UK.
Free delivery for orders over £75*
*Surcharges apply for Highlands & Islands
Native to Southern Japan, this attractive and rare evergreen plant grows into a tree in its natural habitat, yielding valuable hard timber. In the United Kingdom, Distylium racemosum grows somewhat more slowly and has dark green, glossy, leathery leaves all year round. In spring attractive, small, red, Hamamelis-like flowers with lurid purple stamens appear on the older branches.
An elegant evergreen, spring flowered plant.
---
Position: Sheltered in full sun or partial shade.
Soil: Moist, acid or neutral, fertile soil.
Hardiness: Reasonably hardy. Distylium racemosum requires shelter from cold winter winds and will grow more quickly in mild areas of the U.K. Young growth can be damaged by very late, severe spring frosts, although it usually recovers well in the following year.
Flowering Period: March - April.
Flower Colour: Purplish-red
Rate of Growth: Slow.
Habit: Large, elegant, spreading shrub.

Height: 3 m (10 ft).
Spread: 3 m (10 ft).
Notes: A specimen of Distylium racemosum, planted in the arboretum surrounding our nursery had reached a height of 1.5 m and a spread of 1.5 m after 8 years.
Data sheet
How Much Sun

Full Sun, Light Shade

Eventual Size

Shrub - Large

Growing Conditions

Site: Coastal Areas, Soil: Acid, Soil: Damp/Wet

Special Features

Evergreen, Flowers in Spring
Similar plants