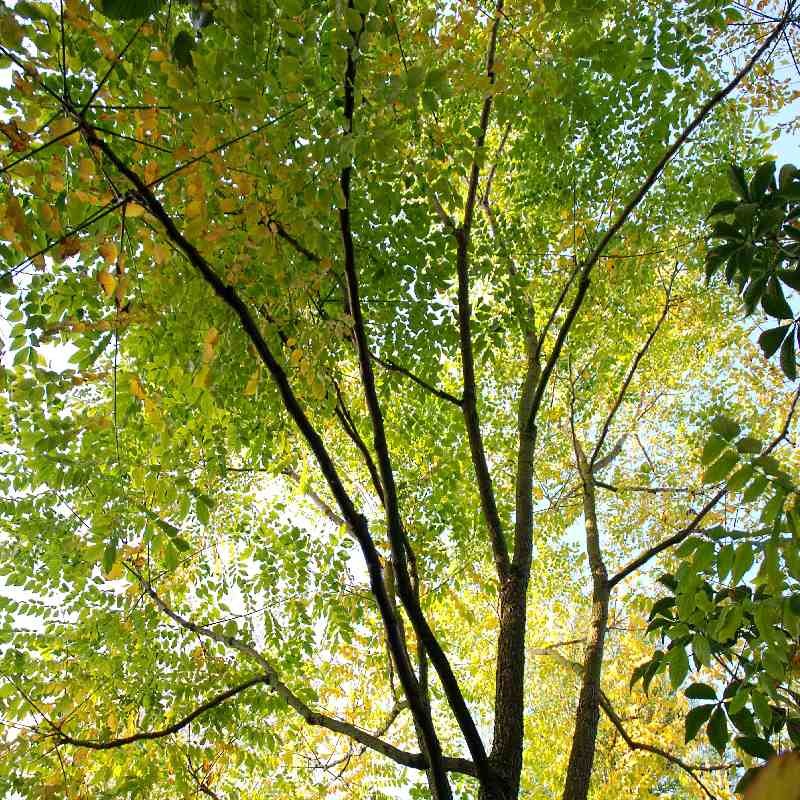  
Gymnocladus dioica
(Kentucky Coffee Tree) Gymnocladus dioica is a hardy, rare and very handsome, small to medium sized tree with huge pinnate (feather-like) leaves and golden yellow autumn colour.
Our mail order service is operating as normal.
(Delivery within approximately 4 - 6 working days)
£7.95 P&P for ANY number of plants to most of UK. Free P&P for orders over £250.
Surcharges apply for Highlands/Islands. We cannot deliver to Northern Ireland or Eire.
One of the most elegant of all hardy trees, Gymnocladus dioica has large, pink tinted young leaves (80 - 100 cm long), turning green as they age and glorious shades of yellow in autumn before falling. New branches have a ghostly white bloom in winter.
Although having greenish-white flowers, this tree rarely flowers in the United Kingdom as we generally do not have hot enough summers. A striking ornamental tree suitable for most gardens and woodland areas.
---
Position: Full sun or light, dappled shade.
Soil: Any reasonably well drained, fertile soil. Gymnocladus dioica is tolerant of dry soil conditions.
Hardiness: Very hardy, but will produce better quality leaves with a little shelter from severe winds.
Flowering Period: June.
Flower Colour: Greenish-white
Rate of Growth: Slow.
Habit: Gymnocladus dioica grows to be a small elegantly branching tree.

Height: up to 10 m (32 ft)
Spread: 8 m (26 ft)
Notes: If planted in a hot area where it will flower, this plant can produce handsome seed pods although both a female and a male plant are required as Gymnocladus are not self-fertile.
Data sheet
How Much Sun

Full Sun

Mature Size

Tree - Small (under 20 ft tall), Tree - Medium (20 - 50 ft tall)

Growing Conditions

Soil Type: Dry / Sandy, Soil Type: Most Soils (not to fussy)

Special Features

Autumn Colour, Honey Fungus Resistant, Habit - Architectural, Rare and Unusual, Leaf Shape - Unusual or Large