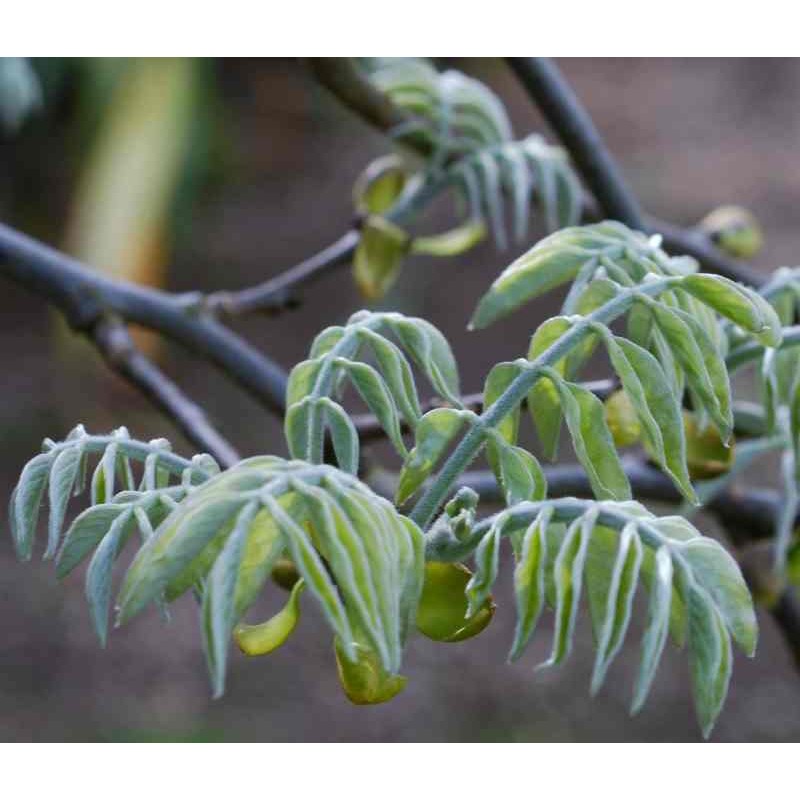  
Maackia amurensis
(Chinese Yellow Wood) Maackia amurensis is a rare and handsome tree native to parts of Northern China and Korea with new leaves in spring which are a beautiful ghostly, silver-blue in colour.
Our mail order service is operating as normal.
(Delivery within approximately 3 - 5 working days)
£7.95 P&P for ANY number of plants to most of UK. Free P&P for orders over £250.
Surcharges apply for Highlands/Islands. We cannot deliver to Northern Ireland or Eire.
Rare and handsome plant native to parts of Northern China and Korea, Maackia amurensis has new leaves in spring which are a beautiful ghostly, silver-blue in colour. As these leaves age they darken to a cool green which last until autumn before falling.
Delightful, upright panicles of creamy-white, slightly fragrant flowers appear on the branches in midsummer, followed by fertile seeds after particularly hot summers. Established plants have striking, textured bronze-brown bark. An unusual and lovely garden tree!
---
Position: Full sun.
Soil: Well drained, fertile soil. Maackia amurensis dislikes waterlogging and will usually not grow well in very wet soils.
Hardiness: Hardy
Flowering Period: May - June.
Flower Colour: Creamy white
Rate of Growth: Slow.
Habit: Eventually a small branching tree with a somewhat upright habit.

Height: 6 - 9 m (20 - 30 ft).
Spread: 4 - 6 m (13 - 20 ft).
Notes: A specimen of Maackia amurensis, planted in the arboretum surrounding our nursery had reached a height of 3 m and a spread of 2.5 m after 12 years.
---
Further information
Maackia amurensis is a member of the Leguminosa (pea & bean) family, characterised by the typical pea shaped flowers. Members of this family develop nitrogen-fixing bacteria in their roots and therefore dislike excessive use of nitrogenous fertilisers such as chicken manure as they are busy making their own!
This species is important to the culture of the aboriginal Ainu people of Hokkaido, Northern Japan, who use many parts of the plant for medicines, the manufacture of tools & ornaments etc.
Extract from an information poster in our arboretum
Data sheet
How Much Sun

Full Sun

Mature Size

Tree - Small (under 20 ft tall)

Growing Conditions

Special: Coastal Areas, Soil Type: Most Soils (not to fussy), Soil Type: Dry / Sandy

Special Features

Flowering Season - Summer (June - August), Honey Fungus Resistant, Leaf Colour - Blue/Silver
Similar plants