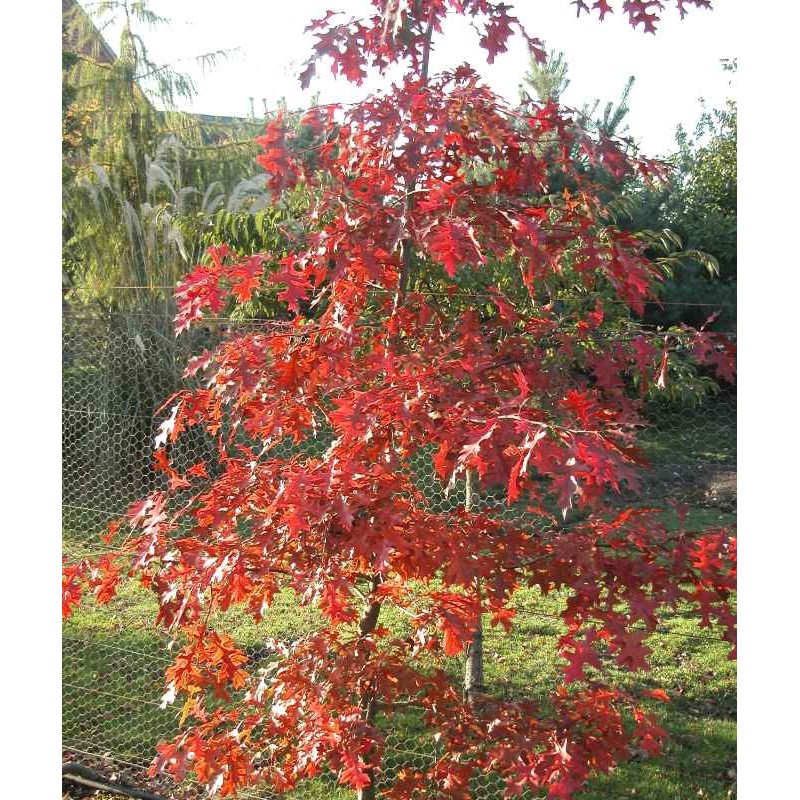  
Quercus palustris 'Flaming Suzy'
(Pin Oak) Quercus palustris 'Flaming Suzy' is our own introduction, a fast growing pin oak with flaming orange-scarlet autumn colours once established.
Our mail order service is operating as normal.
(Delivery within approximately 3 - 5 working days)
£7.95 P&P for ANY number of plants to most of UK. Free P&P for orders over £250.
Surcharges apply for Highlands/Islands. We cannot deliver to Northern Ireland or Eire.
Our own introduction, this fast growing pin oak has flaming-scarlet autumn colours. Shiny, quite slender, typical oak foliage in summer. It will grow on most soils but colours much better in acid soil. The autumn colour here in our arboretum on a pH of 6.5 is quite exceptional.
A smashing tree for autumn colour which has been selected by us and after Suzette Vernon, one of the nursery owners.
---
Position: Full sun.
Soil: Moist yet well drained, fertile soil. Quercus palustris 'Flaming Suzy' grows well in most areas but will produce its most vivid autumn colour in lime free or acidic soils.
Hardiness: Hardy.
Rate of Growth: Vigorous.
Habit: Medium sized or eventually large tree with a rounded crown.

Height: 20 m (65 ft)
Spread: 15 m (50 ft)
Data sheet
How Much Sun

Full Sun

Mature Size

Tree - Large (over 50 ft tall)

Growing Conditions

Soil Type: Damp / Wet, Soil Type: Most Soils (not to fussy), Soil Type: Acid

Special Features

Autumn Colour
Similar plants