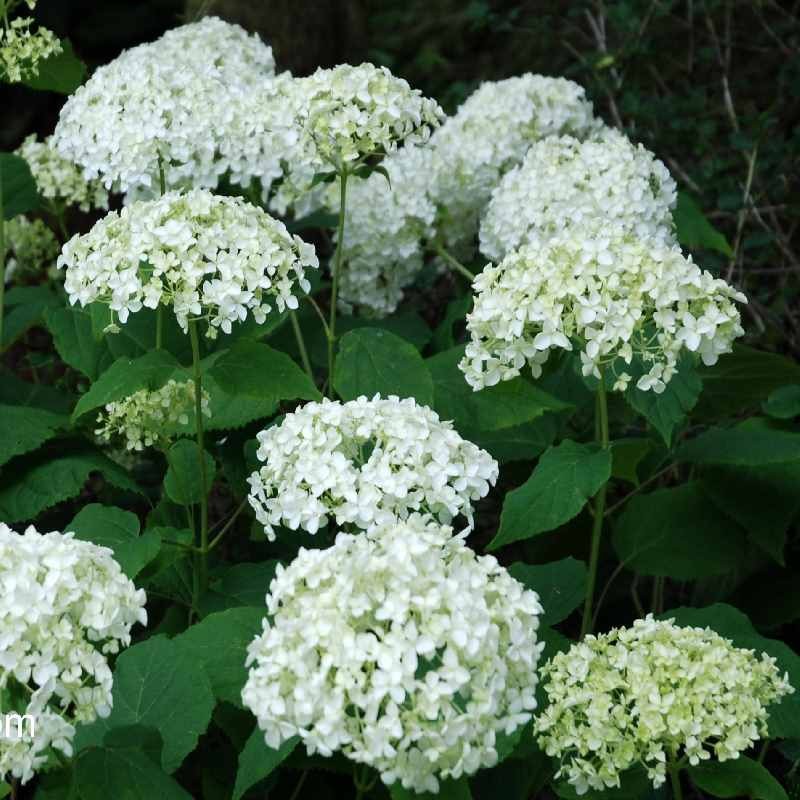  
Hydrangea arborescens 'Annabelle'
60(Sevenbark) Hydrangea arborescens 'Annabelle' is a popular and very attractive, medium sized shrub with long lasting, rounded heads of white flowers from mid summer to autumn. 
Just £5.99 P&P for ANY number of plants
*Surcharges apply for Islands & Highlands
Delivery within 2 - 4 working days
Free delivery for orders over £75*
Secure payment by VISA / Mastercard
A hardy native of the United States with large white flower heads, this is one of the loveliest and most popular flowering garden shrubs. Hydrangea arborescens 'Annabelle' has large, round, white flower heads (up to 15 - 25 cm across) produced en mass in mid to late summer. The leaves are dark green and turn pretty shades of yellow and bronze before falling in autumn.
The display of flower heads on an established plant is truly spectacular and can really brighten up a sunny or shady position in the garden. Hydrangea arborescens 'Annabelle' is particularly eye-catching when planted in small groups.
---
Position: Full sun, partial or fairly heavy shade.
Soil: Moist yet well drained, fertile soil.
Hardiness: Hardy. 
Flowering Period: July - September.
Rate of Growth: Moderate.
Habit: Hydrangea arborescens 'Annabelle'  grows to be a medium sized, rounded shrub.

Height: 2 m (6 ft)
Spread: 2 m (6 ft)
Pruning: Remove dead or damaged stems from Hydrangea arborescens 'Annabelle' in late winter or early spring.
Data sheet
How Much Sun

Full Sun, Light Shade

Eventual Size

Shrub - Medium

Growing Conditions

Soil Type: Damp / Wet, Soil Type: Acid, Soil Type: Not Fussy

Special Features

Suitable for Containers, Flowering in Summer, Flowering in Autumn