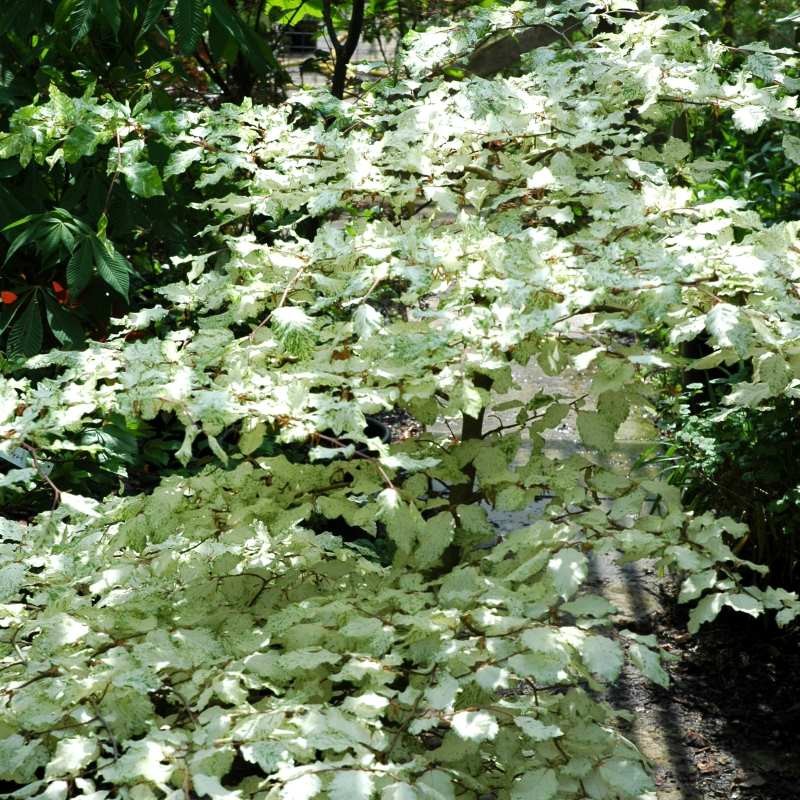  
Fagus sylvatica 'Franken'
Fagus sylvatica 'Franken' is a very slow growing dwarf beech which gradually grows to be a medium sized or large shrub with highly visible white variegation on the leaves.
Our mail order service is operating as normal.
(Delivery within approximately 4 - 6 working days)
£7.95 P&P for ANY number of plants to most of UK. Free P&P for orders over £250.
Surcharges apply for Highlands/Islands. We cannot deliver to Northern Ireland or Eire.
(Variegated Beech) Produced from a selected seedling of Fagus sylvatica 'Marmorata', the white marbling on the variegated leaves of this selection is very attractive and better than its parent. Young plants have green foliage lightly flecked with white markings.
As the plant establishes the foliage becomes fantastically white variegated, with the leaves in spring sometimes being pure white with tiny flecks of green. As summer progresses the green becomes more evident.
Fagus sylvatica 'Franken' is a beautiful yet slow growing foliage plant!
---
Position: Sheltered in partial shade. Planting Fagus sylvatica 'Franken' in a hot position in full sun will cause the delicate leaves to scorch in late summer.
Soil: Well drained, fertile soil.
Hardiness: Hardy. Fagus sylvatica 'Franken' should be planted in a position sheltered from strong wind.
Rate of Growth: 

Very slow

.
Habit: Eventually a medium sized or large, densely branched shrub.

Height: up to 3 m (10 ft).
Spread: 2 m (6 ft).
Notes: This plant grows very slowly and will take 

many

 years to reach the above listed size. It can be grown very successfully in a large container or pot if required. A specimen of Fagus sylvatica 'Franken', planted in the arboretum surrounding our nursery had reached a height of 1.5 m and a spread of 1 m after 14 years.
Data sheet
How Much Sun

Partial or Dappled Shade

Mature Size

Shrub - Large (over 10 ft tall), Shrub - Medium (5 - 10 ft tall)

Growing Conditions

Soil Type: Chalky / Alkaline, Soil Type: Most Soils (not to fussy)

Special Features

Leaf Colour - Variegated, To grow in a pot, Rare and Unusual
Similar plants