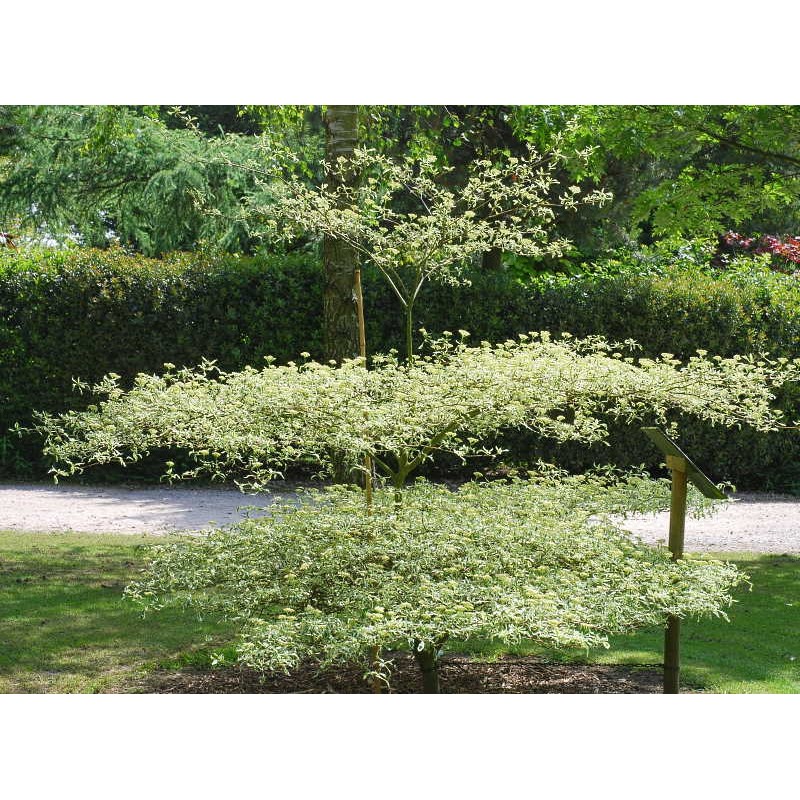  
Cornus alternifolia 'Argentea'
(Variegated American Wedding Cake Tree) Cornus alternifolia 'Argentea' is a superb, unusual large shrub or eventually small tree with silver variegated leaves and a striking tiered habit. 
£5.99 P&P* for ANY number of plants
Free delivery for orders over £75*
Delivery by courier within 2 - 4 working days
*Surcharges apply for P&P to Highlands & Islands
Order before 1pm on 21/12/22 for Christmas Delivery
A superb, unusual large shrub with silver variegated leaves and a striking, tabulated habit. In summer, pretty clusters of white flowers appear, sitting on the upper surface of the tiered branches and contrasting beautifully with the variegated leaves.
The unique shape only becomes apparent after several years growth. A stunning, architectural garden plant!
---
Position: Full sun or light, dappled shade.
Soil: Fertile soil.
Hardiness: Hardy
Flowering Period: June.
Flower Colour: White
Rate of Growth: Slow to moderate.
Habit: Large shrub with a handsome tiered shape once established.

Height: 3 m (10 ft)
Spread: 2.5 m. (8 ft)
Pruning: After planting, look for a strongly growing stem developing after about two to four years, perhaps growing at an odd angle but obviously much more vigorous than the normal shoots. Train this stem vertically (usually up a thin bamboo cane or similar) to form the trunk and basis of the tiered structure. Some plants occasionally produce two or even three of these vigorous "leaders", in this case remove all but the most central one. Once established we find a new tier of branches develop every four years or so.
Data sheet
How Much Sun

Full Sun, Light Shade

Eventual Size

Shrub - Large, Tree - Small

Growing Conditions

Soil: Acid, Soil: Not Fussy

Special Features

Foliage - Variegated, Habit - Architectural
Similar plants