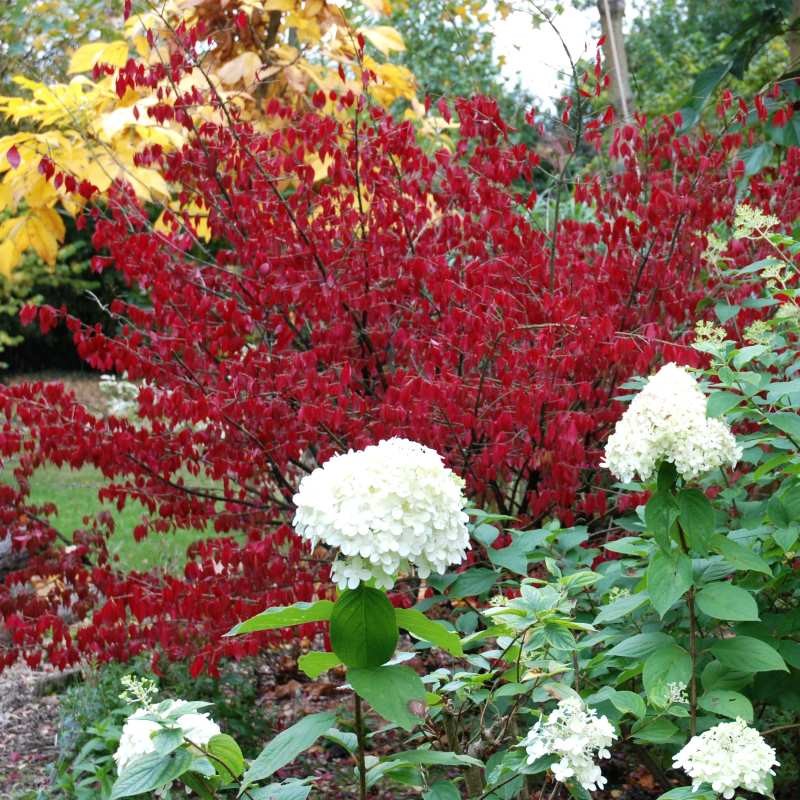  
Euonymus alatus
(Winged Spindle or Burning Bush) Euonymus alatus is a medium sized, densely branching shrub with dark green summer leaves and excellent bright red autumn colour.
£6.95 P&P for ANY number of plants to most of UK.
Surcharges apply for Highlands/Islands. Free P&P for orders over £250
Need advice or help?
Please call our office on (01530) 413700
A shrub known for its superb red autumn colour, Euonymus alatusis a slow growing and also has distinctive corky 'wings' on its branchlets. The leaves are bright green and turn spectacular shades of crimson-scarlet in autumn and under favourable conditions can last on the plant for several weeks before falling.
Small numbers of vivid purplish-red fruit appear on the branches when mature. Superb medium sized shrub for creating a vivid display of autumn colour in your garden!
---
Position: Full sun or partial shade.
Soil: Any fertile soil.
Hardiness: Hardy.
Flowering Period: July - August.
Flower Colour: Pale yellow
Rate of Growth: Slow to moderate.
Habit: Euonymus alatus  grows to be a medium sized, densely branching shrub.

Height: 2.5 m (8 ft).
Spread: 3 m (10 ft).
Notes: Although Euonymus alatus does produce ornamental fruit, Euonymus phellomanus or Euonymus planipes are a much better choice if you prefer a plant with ornamental fruit, rather than autumn colour.
Data sheet
How Much Sun

Full Sun, Partial or Dappled Shade

Mature Size

Shrub - Medium (5 - 10 ft tall)

Growing Conditions

Soil Type: Chalky / Alkaline, Soil Type: Acid, Soil Type: Most Soils (not to fussy), Special: Windy & Exposed

Special Features

Autumn Colour, Screening/Hedge, To grow in a pot, Ornamental Bark / Colourful Winter Stems
You might also like