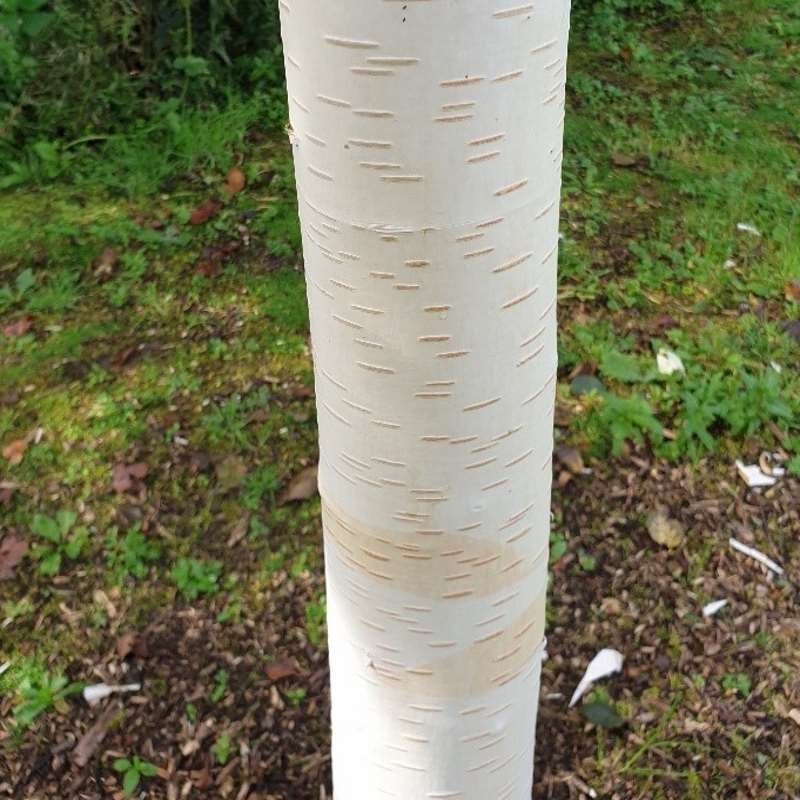  
Betula utilis 'Grayswood Ghost'
 Betula utilis 'Grayswood Ghost' is an unusual, elegant small tree with a graceful habit and excellent silvery-white bark once established.
Our mail order delivery service is running as normal.
(However due to high demand we are currently shipping orders within 6 - 10 working days)
£6.95 P&P for ANY number of plants to most of UK.
Surcharges apply for Highlands/Islands. Free P&P for orders over £250
(Himalayan Birch) An unusual, small selection of silver birch  with particularly good nearly ghost-like, silvery white bark when mature. The bark is particularly striking in the autumn and winter as it is revealed by the leaves falling, but also attractive all year round. The leaves are light green and can in a good autumn, briefly turn a pale yellow before falling.
One of the smaller and slow growing Himalayan Birch, Betula utilis var. jacquemontii 'Grayswood Ghost' is much more suitable than some of the other Birch we grow for gardens with limited horizontal space.
---
Position: Full sun or light, dappled shade.
Soil: Any fertile soil.
Hardiness: Hardy.
Rate of Growth: Moderate
Habit: Betula utilis var. jacquemontii 'Grayswood Ghost' grows to be a small, elegant tree with a slender, habit.

Height: up to approx 10 m (32 ft)
Spread: 8 m (26 ft)
Notes: For best effect, the bark should be scrubbed gently with a hand brush and water once a year. This removes any green algae or grime and helps to restore the colour. Bark colour can take 2 - 4 years to develop depending on position.
Data sheet
How Much Sun

Full Sun, Partial or Dappled Shade

Mature Size

Tree - Small (under 20 ft tall)

Growing Conditions

Special: Windy & Exposed, Soil Type: Acid, Soil Type: Most Soils (not to fussy), Soil Type: Dry / Sandy, Soil Type: Chalky / Alkaline

Special Features

Ornamental Bark / Colourful Winter Stems
You might also like