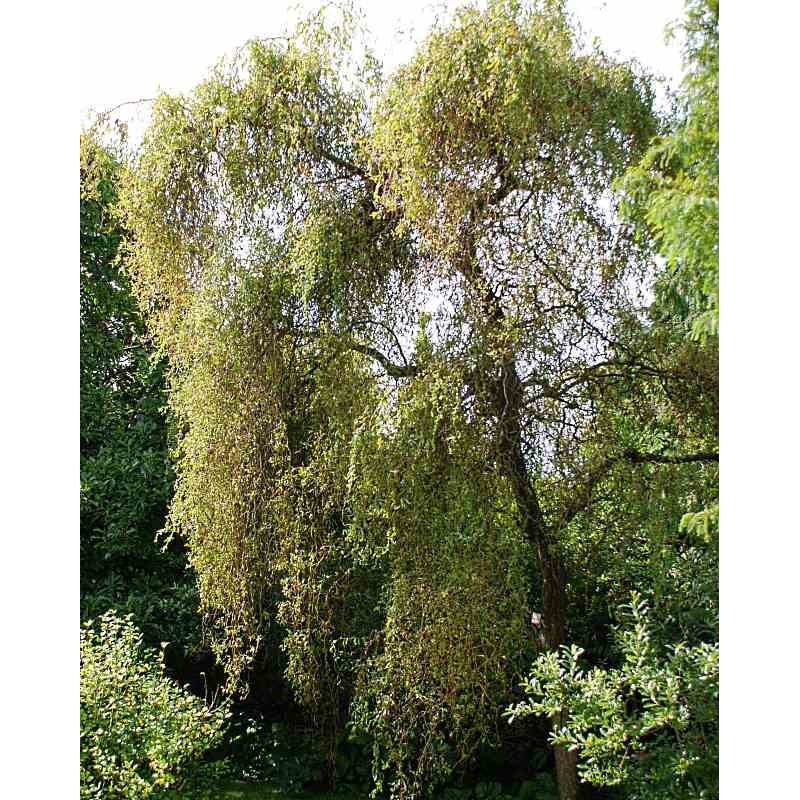  
Salix x sepulcralis 'Erythroflexuosa'
Salix x sepulcralis 'Erythroflexuosa' grows to be a handsome small tree with slender green leaves and unusual orange-yellow, contorted stems.
Our mail order service is operating as normal.
(Delivery within approximately 4 - 6 working days)
£7.95 P&P for ANY number of plants to most of UK. Free P&P for orders over £250.
Surcharges apply for Highlands/Islands. We cannot deliver to Northern Ireland or Eire.
(Dragon's Claw Willow) An unusual cultivar, Salix x sepulcralis 'Erythroflexuosa' has fetching, contorted branches with the young stems coloured a vibrant orange-yellow, which fade to brown as they mature. The leaves are pale green and quite narrow.
The stem colour and twisted, sinuous branches makes this Salix a superb choice of garden plant for winter interest!
---
Position: Full sun or partial shade.
Soil: Any fertile soil. Salix x sepulcralis 'Erythroflexuosa' enjoys damp or wet soils.
Hardiness: Hardy.
Rate of Growth: Moderate.
Habit: Small tree with a rounded crown once established and slightly pendulous, contorted branches.

Height: 5 m (16 ft).
Spread: 3 m (10 ft) .
Notes: Salix x sepulcralis 'Erythroflexuosa' makes an effective garden plant if pruned back to 30 cm (1 ft) above the ground each spring before coming into leaf. This reduces the end size and encourages it to produce vigorous, colourful and contorted new growth!
Data sheet
How Much Sun

Full Sun, Partial or Dappled Shade

Mature Size

Tree - Small (under 20 ft tall)

Growing Conditions

Soil Type: Damp / Wet, Soil Type: Most Soils (not to fussy)

Special Features

Ornamental Bark / Colourful Winter Stems, Habit - Weeping
Similar plants