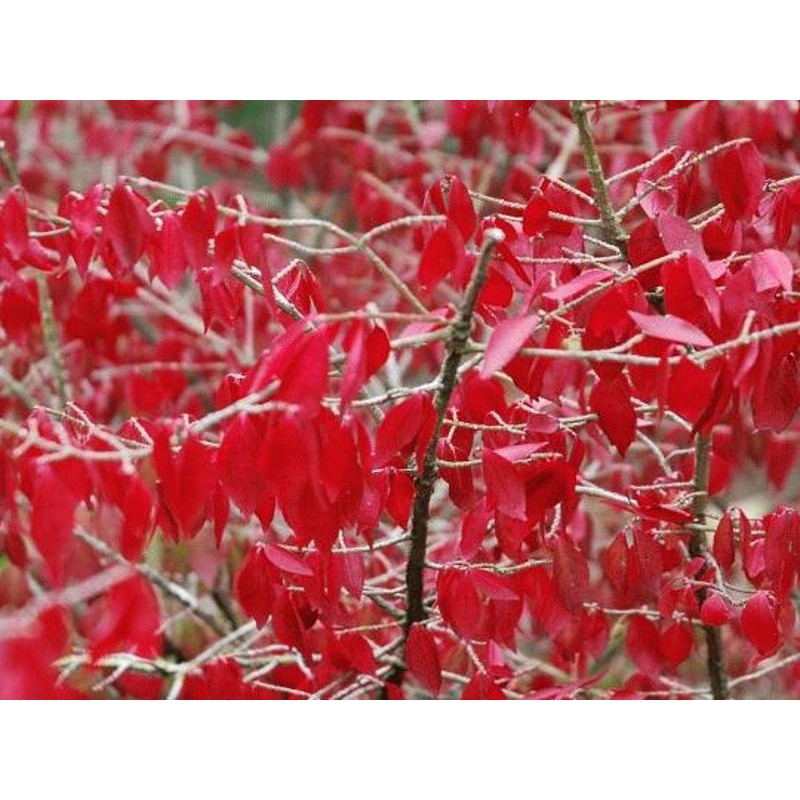  
Euonymus alatus 'Compactus'
Euonymus alatus 'Compactus' is a slow growing, densely branching small shrub with green summer leaves and vivid red autumn colours.
£6.95 P&P for ANY number of plants to most of UK.
Surcharges apply for Highlands/Islands. Free P&P for orders over £250
Need advice or help?
Please call our office on (01530) 413700
(Dwarf Winged Spindle or Burning Bush) A popular dwarf cultivar, Euonymus alatus 'Compactus' has cool green summer leaves and shimmering, bright red autumn colour. The corky wings on the stems are still evident, but less prominent than those on a standard Euonymus alatus.
A small shrub with exceptional autumn colour!
---
Position: Full sun or partial shade.
Soil: Any fertile soil.
Hardiness: Hardy.
Flowering Period: July - August.
Rate of Growth: Slow.
Habit: Euonymus alatus 'Compactus' grows to be a small, densely branching shrub.

Height: 1 m (3 ft).
Spread: 1 m (3 ft).
Notes: Although Euonymus alatus 'Compactus' does produce ornamental fruit, Euonymus phellomanus or Euonymus planipes are a much better choice if you require a fruiting Euonymus rather than autumn colour.
Data sheet
How Much Sun

Full Sun, Partial or Dappled Shade

Mature Size

Shrub - Small (less than 5 ft tall)

Growing Conditions

Soil Type: Chalky / Alkaline, Soil Type: Acid, Soil Type: Most Soils (not to fussy)

Special Features

Autumn Colour, To grow in a pot, Screening/Hedge
You might also like