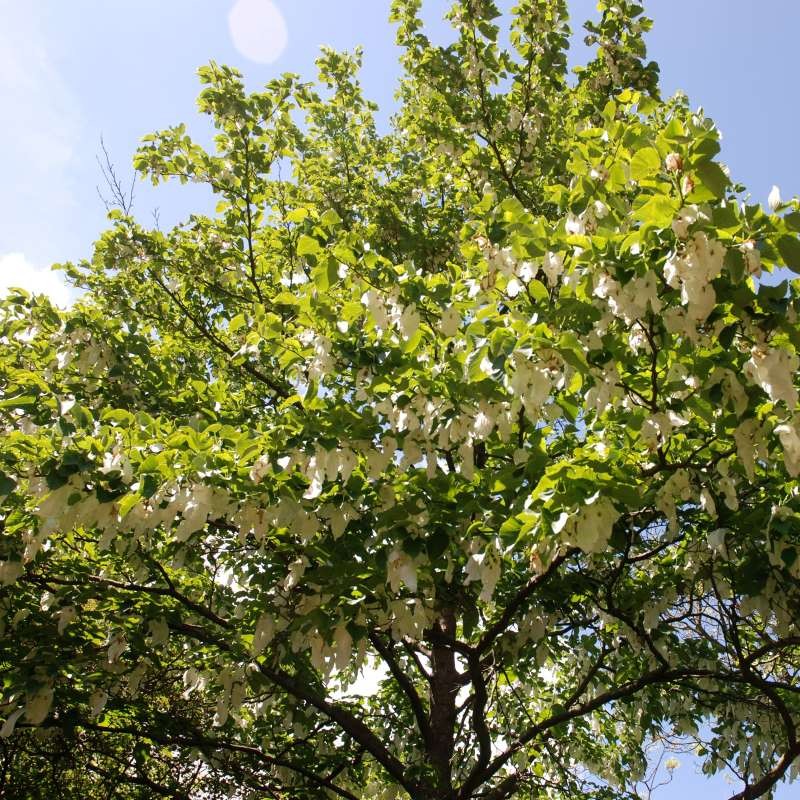  
Davidia involucrata
(Pocket Handkerchief Tree)  Davidia involucrata is native to China, growing to be a hardy, medium sized tree in the UK with masses of large, white bracts in early summer once established.
Our mail order service is operating as normal.
(Delivery within approximately 4 - 6 working days)
£7.95 P&P for ANY number of plants to most of UK. Free P&P for orders over £250.
Surcharges apply for Highlands/Islands. We cannot deliver to Northern Ireland or Eire.
A lovely tree native to South-west China, Davidia involucrata has masses of glorious, white flower bracts in May and June (up to 15 cm long) on mature specimens. These beautiful flower bracts dance on wind, looking like fluttering handkerchiefs or doves and are followed by large green fruit later in the year.
The leaves are oval and bright green, sometimes turning shades of plum purple before falling in autumn. One of the most spectacular flowering garden trees once established!
---
Position: Full sun or light, dappled shade.
Soil: Well drained, fertile soil.
Hardiness: Hardy.
Flowering Period: May
Flower Colour: White (bracts)
Rate of Growth: Moderate.
Habit: Davidia involucrata grows to be a medium sized tree with a branching, rounded crown.

Height: up to 12 - 15 m (40 - 50 ft).
Spread: 10 m (32 ft).
Notes: Davidia involucrata can take a long time to flower: 12 - 20 years is considered typical.
---
Further Information
Davidia involucrata was discovered by the French missionary, Pere David in 1869. He sent seeds back to Paris and were they promptly preserved in formaldehyde! Thirty five years later it was introduced to Britain in 1904 by Ernest Wilson of Chipping Camden.
The seeds which Wilson sent back to Veitch's nursery were promptly sown and, when after two years they hadn't germinated, were discarded onto a compost heap where they germinated the following spring! Interestingly each seed is capable of producing four seedlings which accounts for plants in the wild often being multi stemmed.
Famous for not flowering as young plants, you may expect flower bracts after fifteen years or so but occasional plants will flower when they are only eight years old.
Perfectly hardy, Davidia appreciate some shelter from the strongest winds and are quite happy in almost all fertile soils. In most parts of the UK it is a medium sized tree but can be quite tall in warm gardens in the south.
Extract from an information poster in our arboretum
Data sheet
How Much Sun

Full Sun, Partial or Dappled Shade

Mature Size

Tree - Medium (20 - 50 ft tall)

Growing Conditions

Soil Type: Most Soils (not to fussy), Soil Type: Damp / Wet, Soil Type: Acid, Soil Type: Chalky / Alkaline

Special Features

Flowering Season - Summer (June - August)
Similar plants