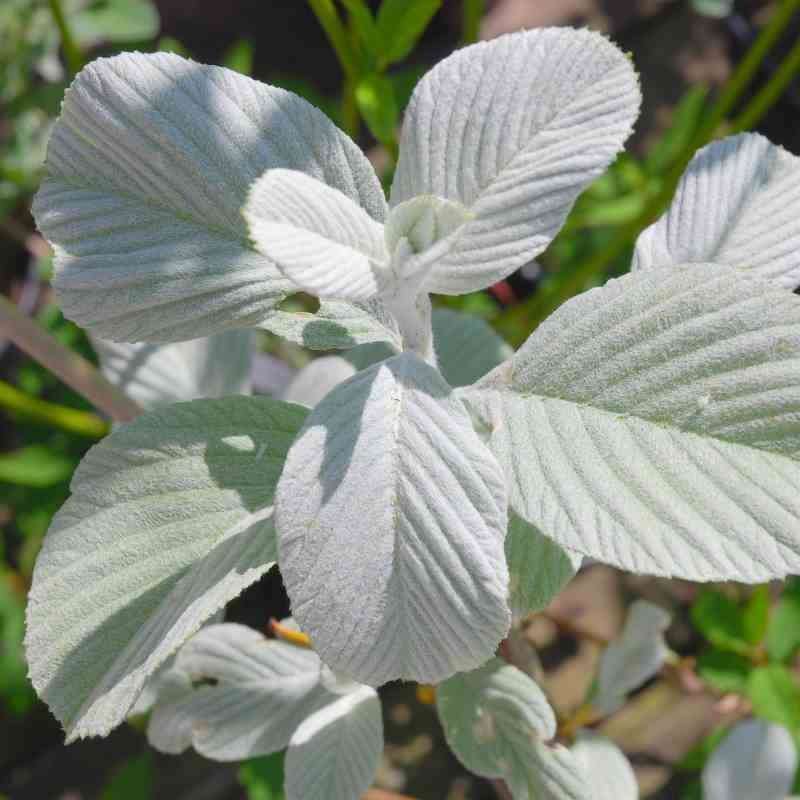  
Sorbus wardii
(Tibetan Whitebeam)Sorbus wardii is a rare and handsome small tree with superb large silver-grey leaves which are particularly spectacular when they emerge in spring.
£6.95 P&P for ANY number of plants delivered to most of UK. Free P&P for orders over £250
Surcharges apply for Highlands/Islands. We cannot deliver to Northern Ireland or Eire.
Shipped within 2 - 4 working days
Need advice or wish to place an order by phone?
Please call our office on (01530) 413700
A rare slender tree first introduced to the UK from Bhutan by Kingdom-Ward, Sorbus wardii has beautiful, large silver-grey leaves. These leaves look especially good when planted against a dark background.
White clusters of flowers appear in early summer followed by amber coloured berries in autumn. This is a fantastic, choice garden tree but as it tends to be slow growing when young, not for instant gratification.
---
Position: Full sun or light, dappled shade..
Soil: Well drained, fertile soils.
Hardiness: Hardy.
Flowering Period: May - June.
Flower Colour: White
Rate of Growth: Slow until established then moderate.
Habit: Sorbus wardii  is a small branching, rounded tree.

Height: 10 m (32 ft)
Spread: 8 m (26 ft)
Notes: This tree is similar in appearance to Sorbus thibetica 'John Mitchell', but grows to be a smaller tree with a more pale leaf colour. Will produce larger, better quality leaves in a position sheltered from strong winds.
Important Please Read

- Sorbus (Rowan / Mountain Ash) species and cultivars are not and cannot be affected by the Ash disease, Chalara fraxinea.  Despite the potentially confusing name, mountain ashes are actually in the rose family, Rosacaea, and are closely related to apples and pears etc. Fraxinus excelsior (Common ash), are in the olive family, Oleaceae and the wind born disease recently found in the UK is completely specific to this genus.
Data sheet
How Much Sun

Full Sun

Mature Size

Tree - Medium (20 - 50 ft tall), Tree - Small (under 20 ft tall)

Growing Conditions

Special: Coastal Areas, Soil Type: Most Soils (not to fussy), Soil Type: Acid

Special Features

Leaf Colour - Blue/Silver
Similar plants