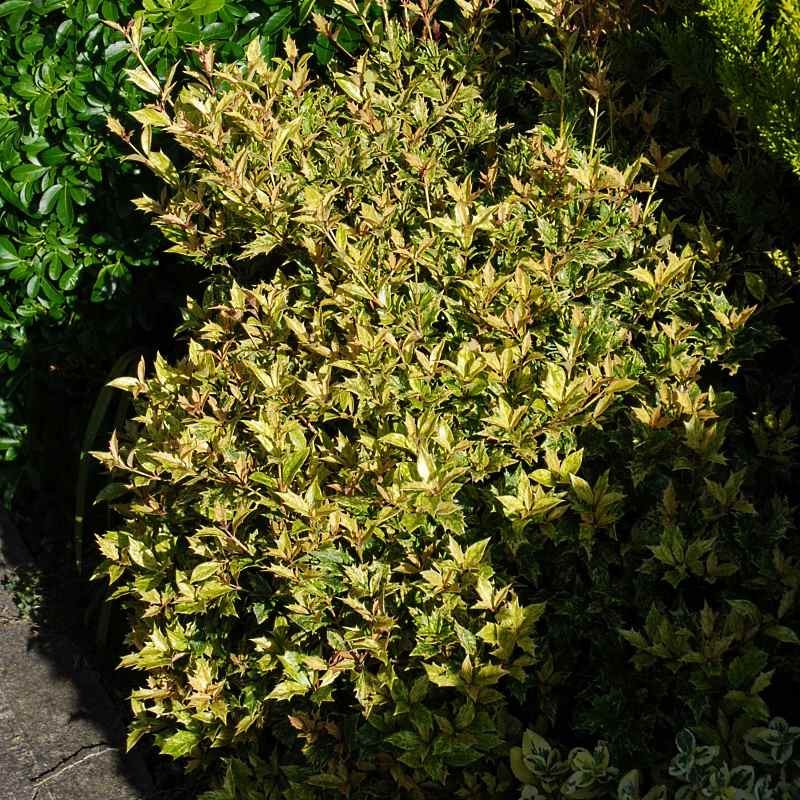  
Osmanthus heterophyllus 'Goshiki'
(Variegated Osmanthus ) A compact, evergreen shrub with colourful foliage, Osmanthus heterophyllus 'Goshiki' has young leaves which are mottled with gold and pink, darkening to green flecked with gold as they age
£6.95* P&P for ANY number of plants delivered to most of UK
Free P&P for orders over £150
Plants usually shipped within 2 - 4 working days
*Surcharges apply for Highlands/Islands. We cannot deliver to Northern Ireland or Eire.
A compact, evergreen shrub with colourful foliage, Osmanthus heterophyllus 'Goshiki' has young leaves which are mottled with gold and pink, darkening to green flecked with gold as they age. Established plants have pretty clusters of scented, white flowers in autumn.
Versatile garden plant which can be grown in a large container or will a colourful addition to a winter border!
---
Position: Full sun or shade.
Soil: Well drained, fertile soil.
Hardiness: Hardy.
Flowering Period: September - October.
Rate of Growth: Slow.
Habit: Osmanthus heterophyllus 'Goshiki'  is a small or eventually medium sized, rounded shrub.

Height: up to 2 m (6 ft)
Spread: 2 m (6 ft)
Notes: This plant was formerly known as Osmanthus 'Tricolour'.
Data sheet
How Much Sun

Full Sun, Partial or Dappled Shade

Mature Size

Shrub - Medium (5 - 10 ft tall)

Growing Conditions

Soil Type: Dry / Sandy, Soil Type: Acid, Soil Type: Most Soils (not to fussy), Special: Coastal Areas

Special Features

Evergreen, Flowering Season - Autumn (September - November), Leaf Colour - Variegated, Scented, To grow in a pot
Similar plants