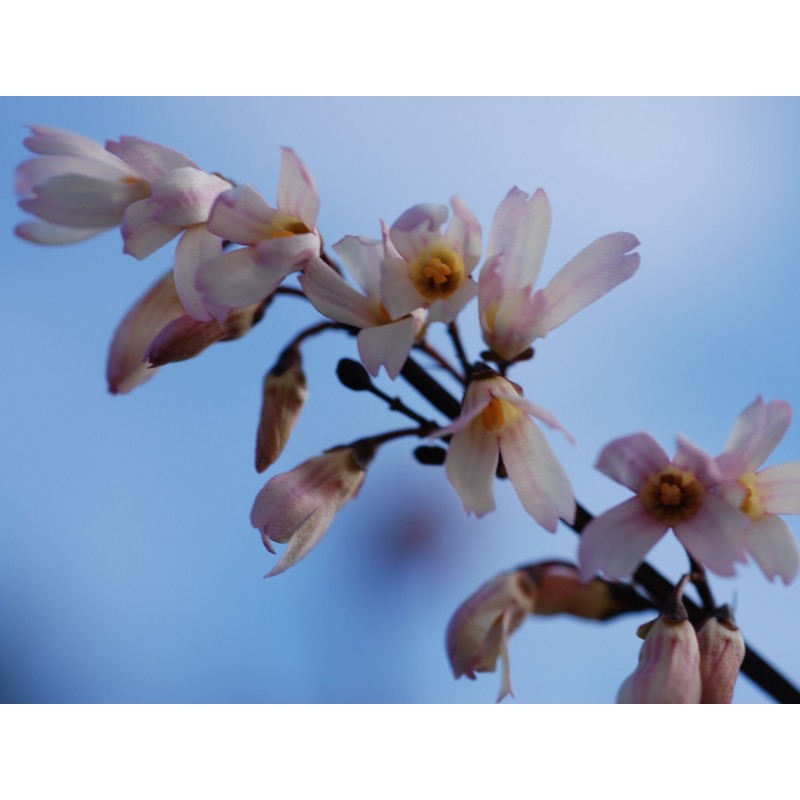  
Abeliophyllum distichum
Abeliophyllum distichum is a beautiful shrub with graceful arching branches covered with clusters of scented creamy white flowers in late winter or early spring.
Our mail order service is operating as normal.
(Delivery within approximately 4 - 6 working days)
£7.95 P&P for ANY number of plants to most of UK. Free P&P for orders over £250.
Surcharges apply for Highlands/Islands. We cannot deliver to Northern Ireland or Eire.
(White Forsythia) A beautiful shrub native to central Korea, with clusters of very fragrant, creamy white flowers which emerge in late winter or early spring. The leaves are mid green and oval, sometimes turning yellow before falling in autumn.
The common name refers to the fact that it blooms at the same time as Forsythia, with flowers of a similar shape and it is in fact an unrelated plant.
Although it can be grown as a standalone border or specimen shrub, Abeliophyllum is probably most attractive when trained against a sunny wall or fence, where it will also flower much more freely than would do in the open!
---
Position: Full sun or light, partial shade.
Soil: Any fertile soil.
Hardiness: Hardy. Abeliophyllum distichum may require protection from late spring frosts as a young plant once the young leaves emerge in spring until it becomes established.
Flowering Period: February
Flower Colour: Creamy white
Rate of Growth: Moderate.
Habit: Small to medium sized shrub with an open, spreading form if untrained. Abeliophyllum distichum will grow a little larger when planted against a sunny wall.

Height: eventually up to 1.5 - 2 m (5 - 6 ft) /

 

or up to 1.5  m (5 ft) after 10 years

Spread: eventually up to 1.5 m (5 ft) /

 

or up to 1.5 m (5 ft) after 10 years
Pruning: Prune the older branches of Abeliophyllum distichum back hard after flowering to encourage new growth & assist in the formation of flowering wood for the following year. 
Data sheet
How Much Sun

Full Sun, Partial or Dappled Shade

Mature Size

Shrub - Medium (5 - 10 ft tall), Shrub - Small (less than 5 ft tall)

Growing Conditions

Soil Type: Most Soils (not to fussy)

Special Features

Flowering Season - Winter (December - February), Scented, Flowering Season - Spring (March - May), Honey Fungus Resistant
Similar plants