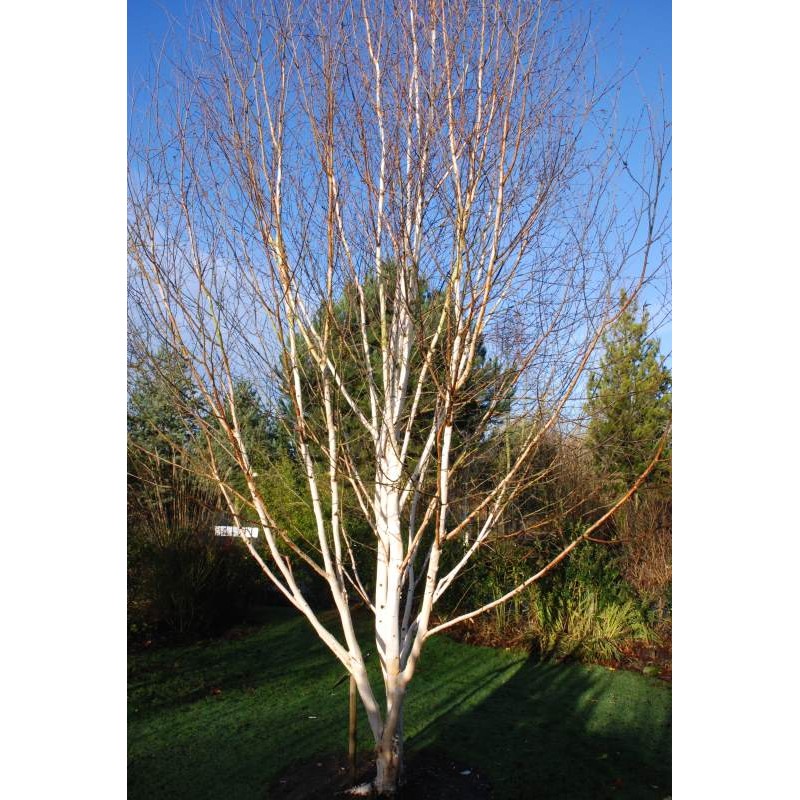  
Betula utilis 'Doorenbos'
Betula utilis var jacquemontii 'Doorenbos' is a highly versatile birch which can be grown as a single or multi-stemmed specimen and quickly develops superb silvery-white bark once established.
£6.95 P&P for ANY number of plants to most of UK.
(Surcharges may apply for Highlands, Islands & other areas, please click for further details)
(Himalayan Birch or Silver Birch)  A fantastic tree and one of our most popular Birch, Betula utilis var jacquemontii 'Doorenbos' is a slender, fast growing birch with particularly fine peeling white bark, even on quite young specimens. It can be grown as a single stemmed tree, but also makes an excellent multi-stemmed specimen.
Growing it in a multi-stemmed fashion also reduces the vigour and end size, making it an ideal tree for smaller gardens.
One of the very best Himalayan white birches, this is delightful as a standalone tree and even more striking when planted in groups, especially against a dark background (house wall, dark green hedge, etc).
Having planted many Birch in our gardens over the years, we find that young plants establish best as the tree habit will generally mature to suit your garden position better.
---
Position: Full sun or light, dappled shade.
Soil: Any fertile soil.
Hardiness: Hardy.
Rate of Growth: Vigorous (moderate if grown as a multi-stemmed tree)
Habit: Betula utilis 'Doorenbos'  grows to be a medium sized tree with a slender habit.

Height: 15 m (50 ft) / Smaller if grown as a multi-stemmed tree.
Spread: 10 m (32 ft)
IMPORTANT (Growing as a multi-stemmed tree): 

 2 or 3 Betula 'Doorenbos' can be planted together in the same hole to create and attractive multi-trunked look as they gradually fuse together at the base. Alternatively if you wish we can prune a single 'Doorenbos' back hard before sending it out to encourage it to grow with a vase-shaped multi-stemmed habit (branching will usually start 1 - 2 ft above ground level when pruned).
The f

reshly pruned Betula which will grow with a multi-stemmed habit are young trees and are 

not

 

for instant gratification. As young plants they usually establish well & quickly, but it will still be at least two to three years in the ground before a nice branching stucture develops and the trunk starts to turn pure silver-white.
Data sheet
How Much Sun

Full Sun, Partial or Dappled Shade

Eventual Size

Tree - Medium (20 - 50 ft tall), Tree - Small (under 20 ft tall)

Growing Conditions

Soil Type: Most Soils (not to fussy), Soil Type: Acid, Special: Windy & Exposed, Soil Type: Dry / Sandy, Soil Type: Chalky / Alkaline

Special Features

Ornamental Bark / Colourful Winter Stems
You might also like